Moscow Mule Copper Mugs Set : 4 16 oz.
Solid Genuine Copper Mugs Handmade in India, 4 Straws, 4 Wood Coasters, & Shot Glass : Comes in Elegant Gift Box
---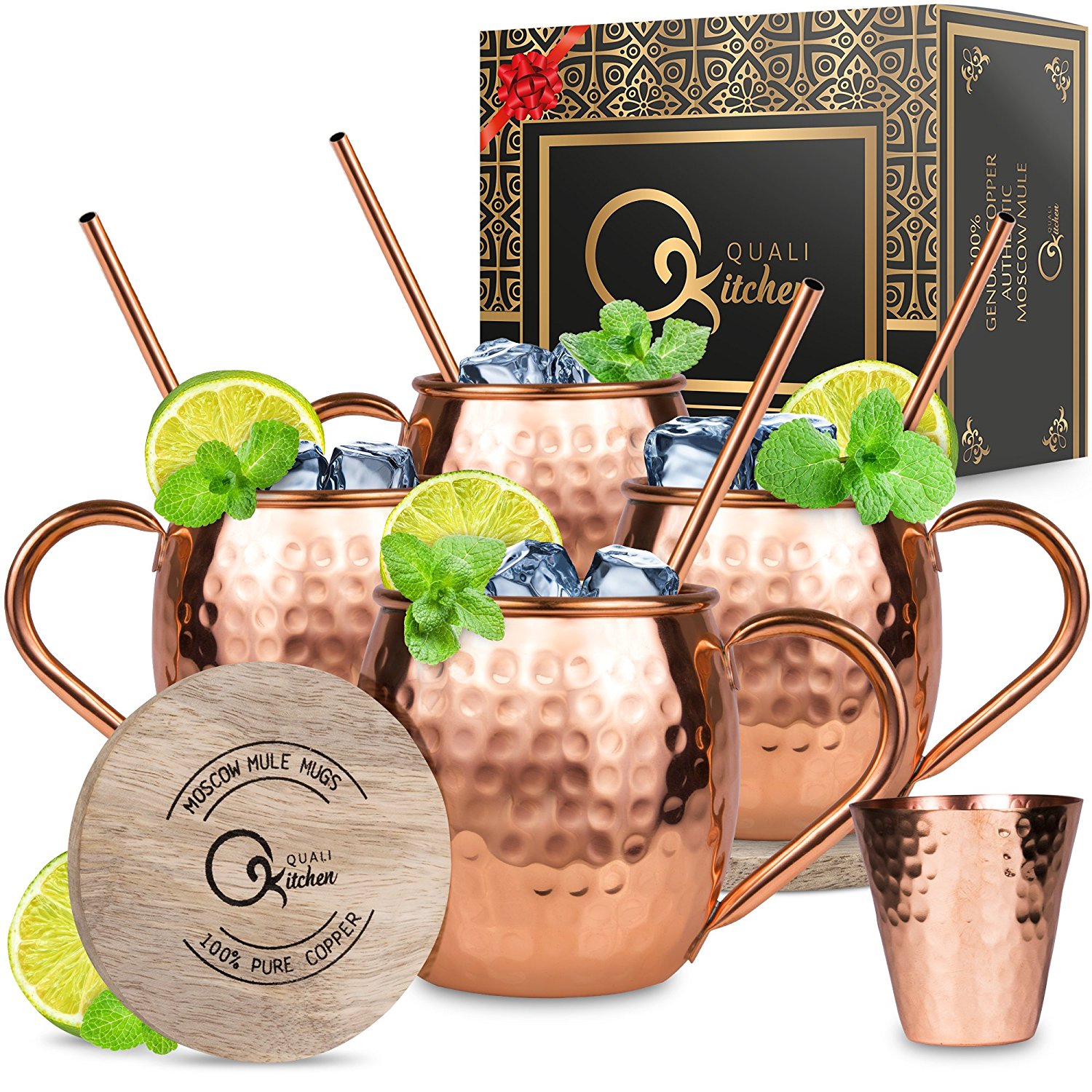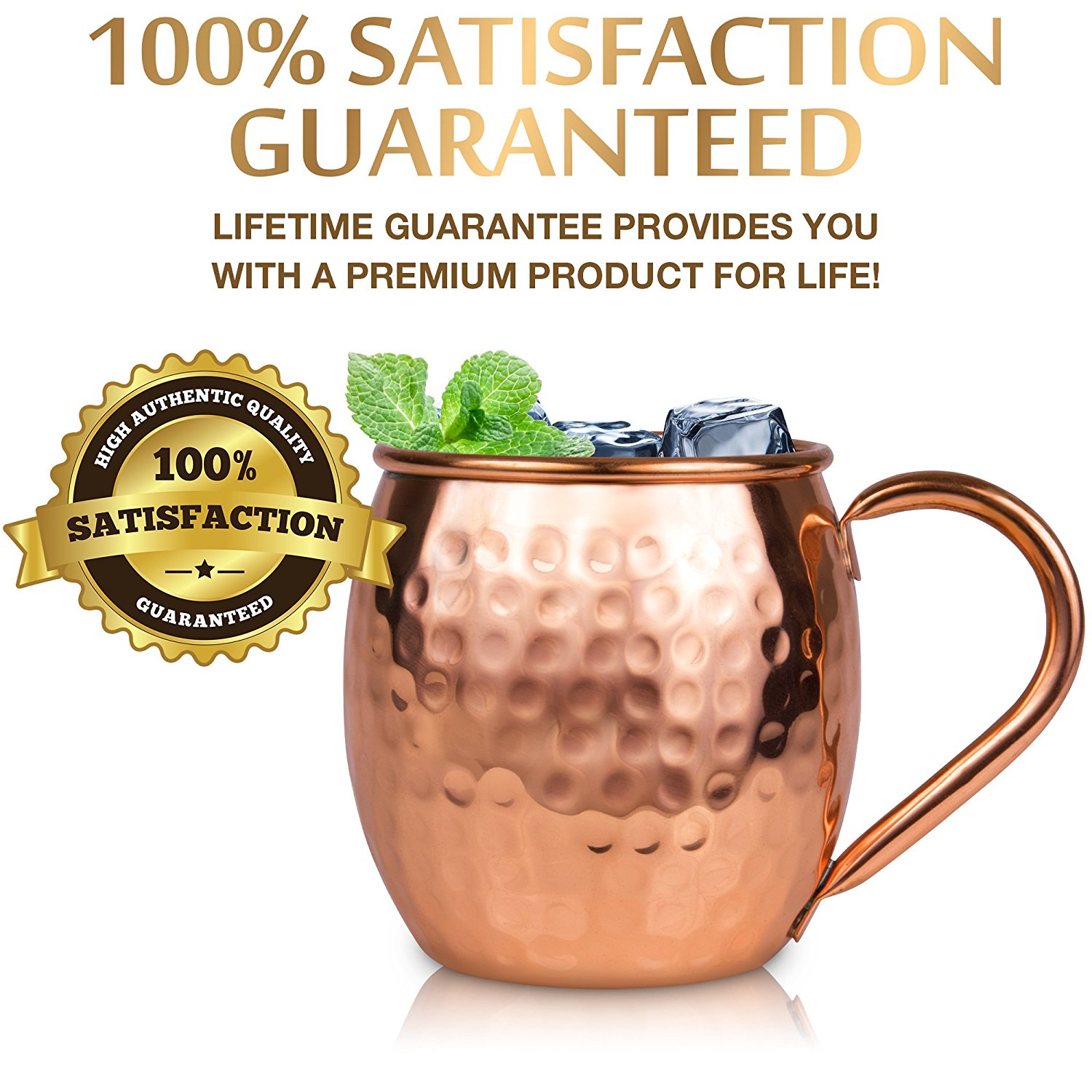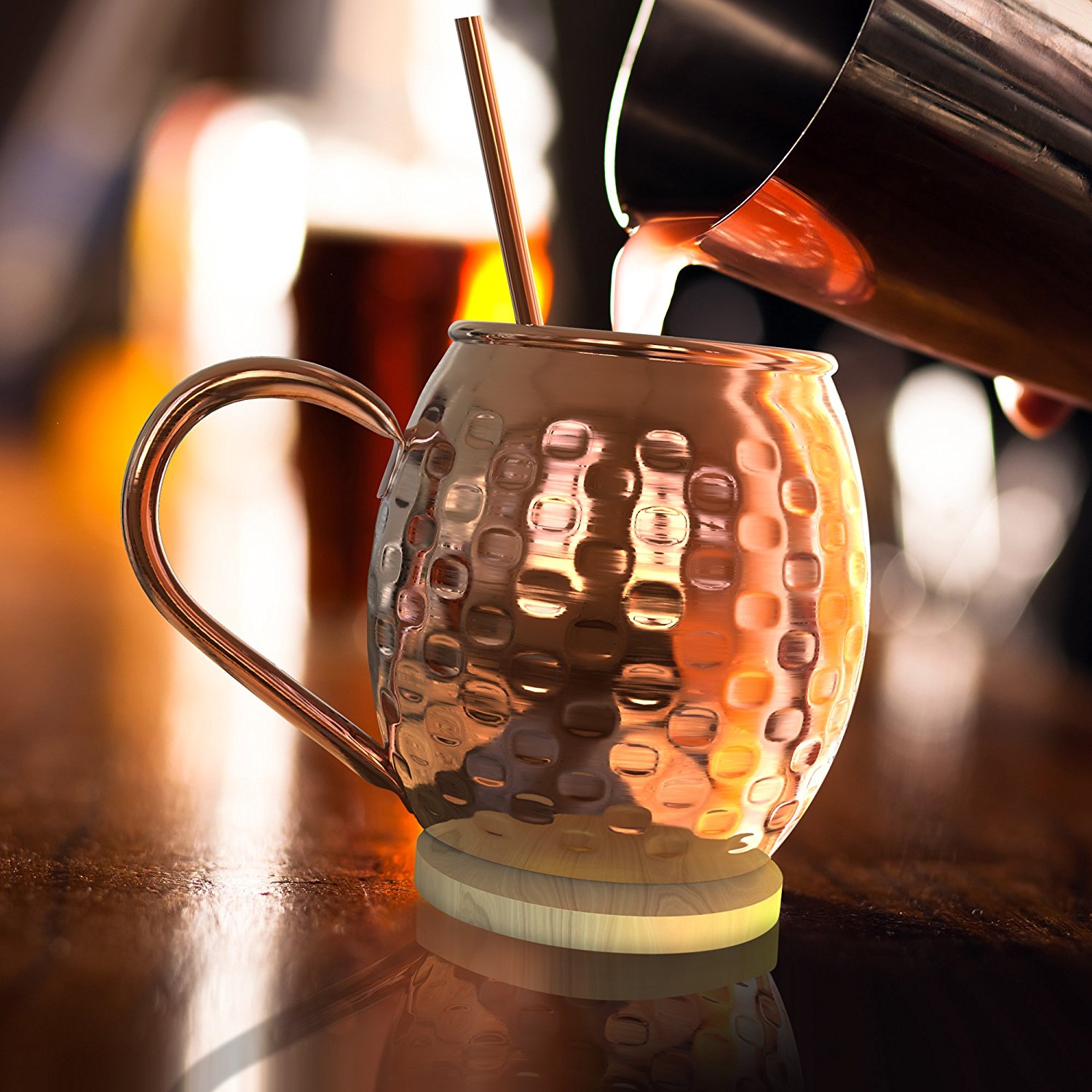 Complete Gift Set: Your antique copper mugs set contains everything you need for a Moscow Mule party right at home — 4 mugs plus matching straws, mango wood coasters, and shot glass.
100% Pure Copper Mugs: These premium hammered copper mugs are made solely of copper — no nickel, tin, or other filler metals to compromise their natural color, beauty, and strength.
Beautifully Handcrafted: Unlike those that are mass produced in a factory, these large 16-oz. copper mugs are made by hand in India to the highest standards of quality and workmanship.
Lacquer Coating to Preserve Shine: Each copper mug is coated with safe, food-grade lacquer inside and out that makes it tarnish resistant. So your mugs stay looking lustrous over time.
Lifetime Warranty: Your copper cups with handle were designed to elevate the Moscow Mule drinking experience. But if you're not thrilled for any reason, return them for a full refund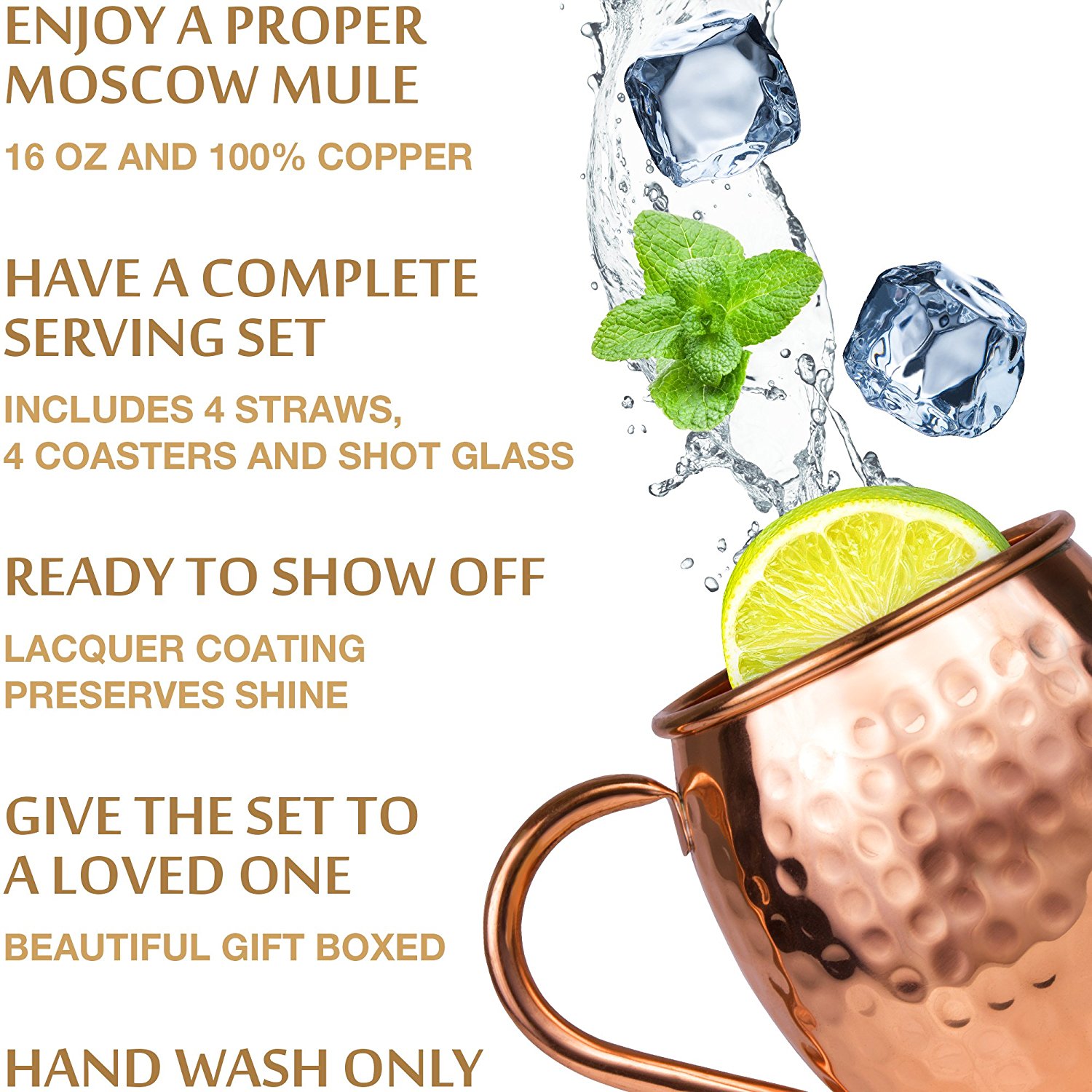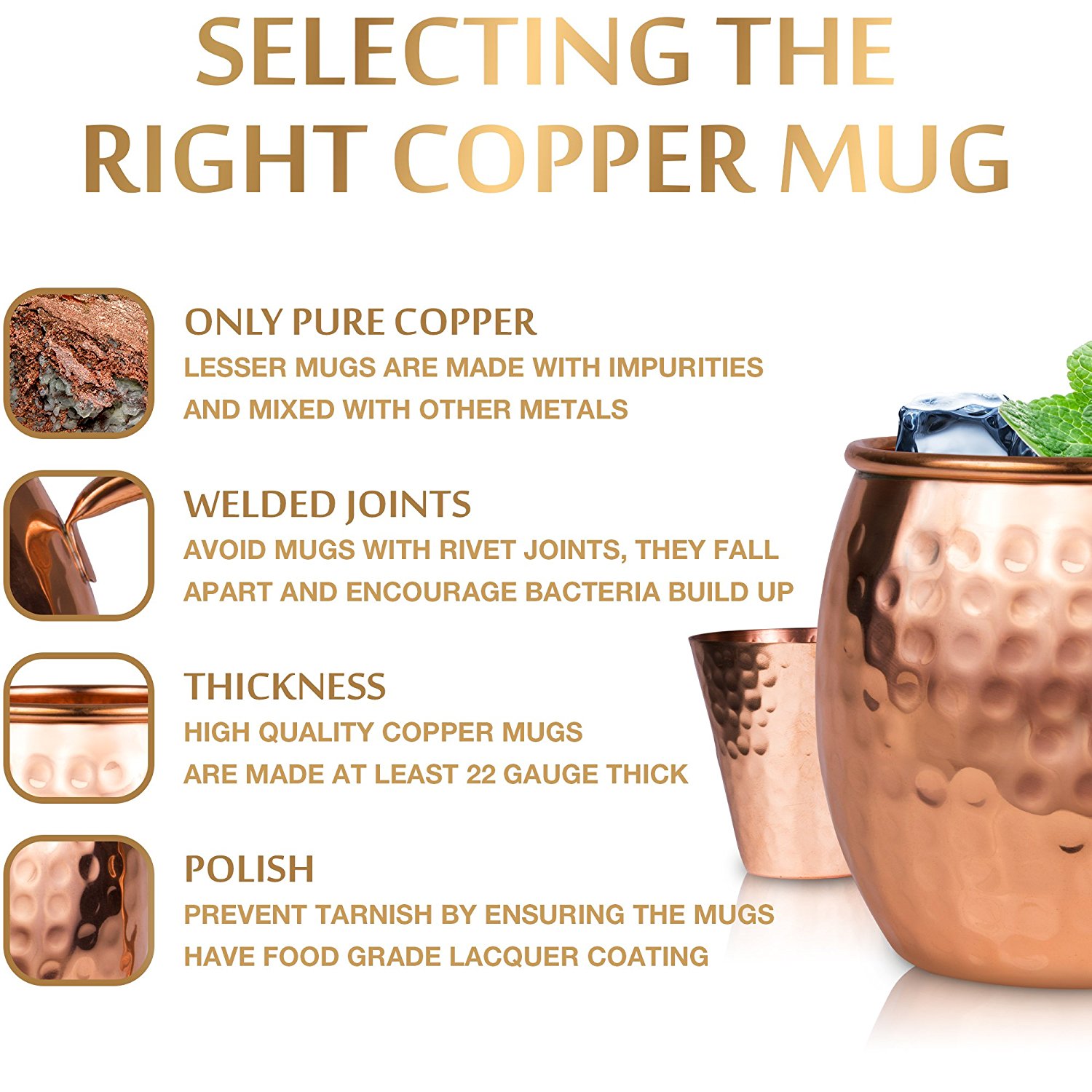 Product Description
Bold vodka, spicy ginger beer, and zesty lime juice … there's nothing more refreshing than a classic Moscow Mule. And there's no better way to enjoy this beverage than in a real copper mug, which helps the liquid stay deliciously chilled for longer.
Bursting with vintage charm, this complete Copper Mugs Gift Set from Qualikitchen features everything you need to make a proper Mule cocktail, including:
4 real, handmade mugs made of pure copper, with no "filler" metals mixed in. They feel so solid in your hand.                                                                   
4 matching copper straws that look much classier than paper or plastic ones (plus they're reusable, and better for the environment)                             
4 thick wooden coasters made of beautifully pale mango wood. Prevents your mugs from leaving moisture rings on your counter or coffee table.      
1 copper shot glass to help you measure your ingredients precisely and create a perfect, tasty Moscow Mule.                                                                     
Your Indian copper mugs set arrives in an elegant box that's suitable for giving. It's the ideal gift for a housewarming party, engagement, wedding, or birthday. Or surprise your favorite bartender or party hostess with a gift that's both unique and practical.
Genuine Copper Mugs, Lovingly Made by Hand
Looking for higher-end Moscow Mule mugs? You've found them with this set. Featuring a gorgeous earthy color and rich sheen, these mugs are made only of copper. Unlike the sellers of inferior brands, we've added no extra metals, which can devalue their look and reduce their longevity.
Our copper mugs are handmade by skilled artisans in India — not produced in a factory in China. From the vintage hammered finish to the gracefully curved handles, every inch of these mugs conveys quality and attention to detail. They're a stylish addition to your cocktail party, romantic dinner for two, or summertime soiree.
Tarnish-proof to Provide Years of Use
Your Moscow Mule copper mugs are coated, inside and out, with a special food-grade lacquer that's been deemed safe for use in barware. This coating helps pump up the glossy look of your mugs and also seals out moisture to prevent tarnishing and discoloration.
Your mugs will stay looking sharp, stylish, and new for years to come.
Moscow Mule Recipe: Squeeze 1/2 oz. of fresh lime juice into your mug. Add 2 or 3 ice cubes. Pour in 2 oz. of top-shelf vodka. Add 6 oz. of cold ginger beer, and stir.